---
---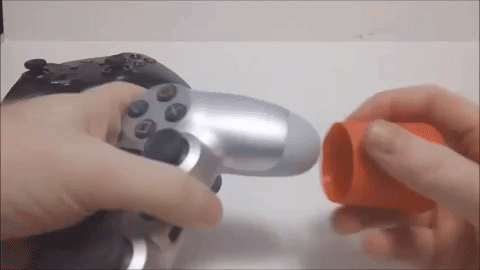 Playbudz Pro Grip Extenders for the Playstation 5 (DS5), PlayStation 4, XBox One, Scuff and Nintendo Switch Pro controllers. Are advanced controller grips that utilize innovation, environmentally friendly materials, and specific design.
Provides maximum comfort and support to DUALSHOCK 5,  DUALSHOCK®4 Wireless Controllers
Maximum comfort minimizing hand fatigue
Increases aiming accuracy, movement and overall quality of gameplay
Unintended button pushing in the heat of combat
More surface area for your hand to grip
Easy to apply and adjust, fully repositionable
To give gamers better grip, less slip, more support and optimal comfort. Our Pro Grips are easy to apply and can be repositioned. You simply slide them on and off, or angle them as you desire.
Our Playbudz Pro Grips utilize our unique design to achieve enhanced grip and supreme comfort when using your DUALSHOCK4 Wireless Controller. Our proprietary grip extenders maximizes control while giving the palm and pink of your hand a greater resting area. Which creates a more natural feel conforming to your palm and providing more support, and comfort the harder and longer you game.
Intended for use on DUALSHOCK 5 (PS5), DUALSHOCK 4 (PS4), XBox 360, XBox One (XB1), Nintendo Switch Pro, Scuff, Wireless Controllers.
---