---
---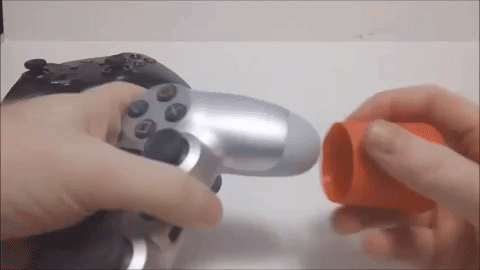 (NOTE: OUR BLACK IS THE NEXT GEN MODEL, ALL OTHER COLORS ARE LAST GEN PLAYBUDZ)
The Playbudz Pro Grip colors. Is a must have when dealing with the grueling demands online competitive play in games like; Call Of Duty, Fortnite Destiny, Halo, Battlefield, Rainbow Six, Star Wars Battlefront and other competitive first and third-person shooters. Our Playbudz Pro Grip Extender color pack, consist of  a pair of grips. 
BENEFITS:
Provides maximum comfort and support to Wireless Controllers

Maximum comfort minimizing hand fatigue

Increases aiming accuracy, movement and overall quality of gameplay

Unintended button pushing in the heat of combat

More surface area for your hand to grip

Easy to apply and adjust, fully repositionable
WORKS WELL IN:
Fortnite

Apex Legends

Overwatch

Grand Theft Auto V

All Call of Duty Titles

Rainbow 6

Spiderman

All 2K Sports Games

 
Color Choices:
Super Saiyan Ki Yellow
Snow Yetti White
Relaxa Cooly Purple
Amazonian Green
Arctic Fox Blue 
Solar Red 
Galactic Star Charcoal Black
Hyper Pink 88
Original design that offers exceptional grip, maximum comfort, less slip, and minimum hand fatigue. Our grip Extenders allow for  maximum precision and control.
With a nearly seamless feel for those looking for big results but prefer less adjustment time. The Playbudz Grips excels when using subs, shotguns, pistols and when quickness in close quarters is must.
Intended for use on DUALSHOCK 3 (PS3), DUALSHOCK 4 (PS4), XBox 360, XBox One (XB1), Nintendo Switch Pro, Scuff, Wireless Controllers.
---